By email
By mail
Umeå University
[name of lab member]
Department of Medical Biochemistry and Biophysics
901 87 Umeå, Sweden
Deliveries of larger items, courier services (note the different postcode)
Umeå University
[name of lab member]
Department of Medical Biochemistry and Biophysics
Linnaeus väg 6
907 36 Umeå, Sweden
(NB: FedEx has chronic issues with deliveries to Umeå and should not be the first option!)
Visit us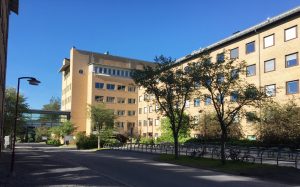 We are located in the Chemical Biological Centre (KBC) with the street adress "Linnaeus väg 6". The main entrance to KBC is marked with a large white sign saying "KBC-huset" (visible in the image above). You'll find our lab in corridor A5.
The closest bus stop is "Växthuset", but the bus hub of the hospital ("Norrlands Universitetssjukhus") is only a five minute walk away. The train station "Umeå Östra" is equally close.
Current weather in Umeå
See the weather station on the roof of the physics department next door.